Our ministries to children, youth, and their families seeks to:
Embody the unconditional love of God and the joy of being in Christian community;

Equip families to practice their faith in their everyday life;

Inspire a spirit of discovery and wonder for the Bible as the great story book of our faith–and not a simple book of rules and answers.
---
WINTER 2021

FALL 2020 
---
PRAYER BUDDY PROGRAM
The goal of the "Prayer Buddy" program is to build intergenerational relationships through prayer and friendship. Interested adult parishioners will be paired with a child or youth parishioner (with parent's approval).  Each Prayer Buddy covenants to pray for their buddy regularly and to check-in each month with a letter or small care package.
For young children, having a Prayer Buddy is a great opportunity to start a prayer routine at home!  For adult parishioners, having a Prayer Buddy may enable them to get to know children and families who they may not already know; and they may enjoy watching their Prayer Buddy grow up in the church. For youth, having an adult parishioner pray for and be interested in them may help them realize they are part of a loving and supportive church family.
Prayer Buddies undergo Safeguarding God's Children training. Email the office to learn more.
---
YOUNG DISCIPLES' MOMENT
Each Sunday during our weekly worship on Zoom (at 9:30 AM) children are invited to a moment of wondering and exploration just for them. Using the Montessori-based Celebrate Wonder program, we explore a different story from the Bible based on a series of monthly themes, such as creativity, blessing, and faith.  Each Young Disciple Moment begins with a short "I wonder question," followed by a 3-4-minute video. Children are then given an activity to do during the sermon.
The goal is to develop familiarity with the Bible and its myriad stories so that our young people come to see that the people in the Bible aren't heroes because of their feats, but because of their humanity and God's commitment to using us—flaws and all.
---
IN-PERSON FAITH FORMATION 
(Will resume September 2021)
2nd and 4th Sundays: Play and Learn Classes 
3rd Sundays: Faith Games  & Prayer Stations
1st Sunday: All-Church Service Project
All programs begin at 9:15 AM. Our youngest class, Tiny Sprouts (PreK3-K) use Spark Frolic, a play and wonder-based program. Seedlings (1st-3rd) use the Spark Rotation Program and Saplings (4th-6th grade) use the Submerge series. Each class is rooted in a spirit of play, wonder, and discovery.
---
WORSHIP
We encourage children to be a part of our worship services each week. There are activity bags for children 10 and under in the front and rear foyers. Many parents find that sitting near the front helps their children to participate more fully. Don't worry if your child is noisy. Their presence reminds us of all that is good in the world. Check out an online version of our "Worshipping with Children" pew card.
Young Disciples' Moment
Each week, children are invited to the altar steps for a moment designed just for them!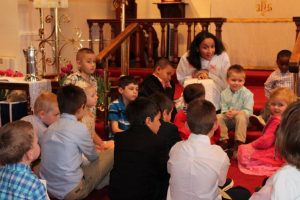 Worship Ministers
Children and youth ages 8 and older are invited to serve as readers, acolytes, ushers, and musicians. Email the office to sign up.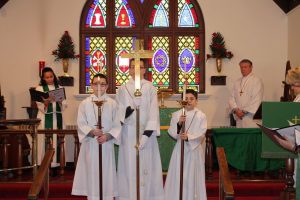 Nursery (closed during the COVID-19 pandemic) 
Our nursery is open for children 5 and younger every Sunday, 10:00 a.m.-11:30 a.m., and is staffed by one our caregiver Nettie Arnold and a rotation of volunteers, all of which have received certification in Safe-Child Standards. The nursery is also always looking for volunteers who are willing to serve as substitutes or as extra help on days that have particularly large attendance. Contact the church office if you are interested in signing up.
---
YOUTH GROUP
After the graduation of many older students, St. Paul's Youth Group is in a rebuilding stage, with most of our young people in the 5th-8th grades.  We are committed to being a welcoming, loving, and judgement-free space for young people  to discover who they are, the gifts they bring, and what it means to be a follower of Jesus. We encourage questions, honesty, and authenticity and are committed to nurturing a holistic understanding of the Christian faith.  Please see the Parent/Guardian letter above for details on fall 2020 programming. 
Worship
You can find nearly all of our youth taking an active role in worship as acolytes, readers, communion ministers, and Children's Chapel aids. 
Play
Enjoying one another's company is one of the best ways we build community and build trust. The youth do a variety of things, including camping trips, kayaking, laser tag, and everything in between. Contact Mother Maria for more information.
Serve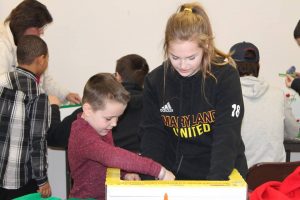 Several times a year our youth engage in a project of love and service in our community, such as our county's hunger walk, serving at the local soup kitchen, and more. The best part is that all youth projects are youth inspired and led. The youth also host the annual Breakfast with St. Nicholas and Gingerbread House Workshop in December and the "Holy Peeps" diorama contest during Lent. Ona the 2nd Sunday in May they lead worship and direct the children's choir