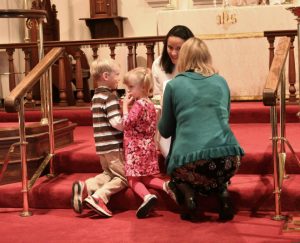 What should I wear to worship?
Whatever you want! You'll find some people in shorts and tennis shoes, others in suits. It makes no difference.
Is your building accessible for the differently abled?
Yes!
What is worship in the Episcopal Church like?
Our worship is experiential, thoughtful, and joyful. You are invited to participate as you feel led. As Christians in the Episcopal tradition, our worship is rooted in the Bible and the liturgy of the Book of Common Prayer. For more than 600 years, the BCP has united Christians all over the world in a common language of prayer and worship. Some portions of our service come to us from many years before Jesus. Others come from the early church in the first and second centuries. The Holy Eucharist is the heart of our worship and guides, nourishes and sustains us in ministry.
Why do you call your services the Holy Eucharist?
Great Question! The Eucharist is another name for Holy Communion. It is an act of thanksgiving and a remembrance of Jesus' sacrifice, which was displayed in his radical act of love and self-giving on the cross. The Holy Eucharist is an embodiment & reflection of the unconditional acceptance and love given to us and to which we are called.
Why is the Eucharist also called a sacrifice?
Because the Eucharist, the Church's sacrifice of praise and thanksgiving is the way by which the sacrifice of Christ is made present, and in which he unites us to his one offering of himself.
Must I receive both Bread and Wine at Holy Communion? 
No, you don't have to. You may receive just bread.
Is there stuff for my children to do on Sundays?
Yes! We have Sunday School for children ages 4-11 at 9:15. Click here for more information on Children's Ministries. Youth Group meets every other Sunday at 11:30. Click here for more information on youth group. Children's Chapel is held on the 2nd and 4th service during the 10:30 worship. There are also numerous activities throughout the year for children and teens.
I have a lot of questions and doubts. Am I going to feel uncomfortable?
No one has all the answers. We welcome you wherever you are in your faith journey.
Is your church diverse?
Yes. Our congregation is made up of people of various nationalities, ages, occupations, sexual orientations, and sports allegiances. We come from a variety of religious traditions and have found at St. Paul's a spiritual home where we can hear and share the Word of God. We are drawn by the beauty, spirituality, music, and liturgy of the Episcopal Church. The energy and the wide variety of ministries, social activities, and outreach activities of the church reflect the presence of the Holy Spirit and the diversity of talent and giftedness of our members. St. Paul's is a welcoming and affirming church.
What is a Rector?
A Rector is the same thing as a senior pastor and is the priest in charge of a parish.
What does "Episcopal" mean?
Episcopal refers to a church with bishops. Read more about the Episcopal Church here.
Why are y'all called "Piney Parish?"
That is a great question! In English canon law, a parish is an area under the spiritual care of a priest. Today, it refers to a self-supporting congregation. When the Church of England first established the Anglican Church (which is the larger network of churches to which the Episcopal Church belongs) they organized them according to geographic regions. Piney Parish is simply the original name of the geographic region around the church that would become St. Paul's.
Are Episcopalians "Born Again?"
Yes, over and over again. However, most Episcopalians do not view their rebirth as a a sudden, one time experience. We tend to speak of a lifelong journey walking in the way of Jesus Christ. We see all of our lives as a constant striving to accept and follow Christ through corporate worship, the sacraments, private prayer, and our daily living at work, home, community and civic activity, and leisure.
What is the lectionary?
The lectionary is a three year cycle of Bible readings that teach us the Christian faith. Each Sunday there is a reading from the Old Testament, the book of Psalms, and from one of the Epistles (letters to the early church), and a reading from one of the four Gospels (Matthew, Mark, Luke, or John). Click here to see the upcoming readings.
Have any more questions?
Please feel free to email our rector, Mother Maria.