St. Paul's Youth Group is a welcoming, loving, and judgement-free space for young people in grades 5 through 12 to discover who they are, the gifts they bring, and what it means to be a follower of Jesus. We encourage questions, honesty, and authenticity and are committed to nurturing a holistic understanding of the Christian faith. We are guided by three principles: discipleship, fellowship, and service.
Grow
Piney Youth Group meets on the first Sunday every month for breakfast and discussion around relevant faith and life issues using the latest music, movies, and current events. Topics include: Sports, Natural Disasters, Politics, Holidays, Movies, and Viral Videos.
Play
Enjoying one another's company is one of the best ways we build community and build trust. The youth do a variety of things, including camping trips, kayaking, laser tag, and everything in between.
Serve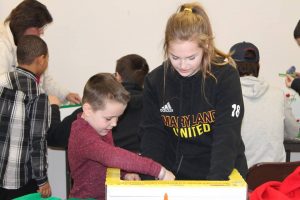 Several times a year our youth engage in a project of love and service in our community, such as our county's hunger walk, serving at the local soup kitchen, and more. The best part is that all youth projects are youth inspired and led. They also host the annual Breakfast with St. Nicholas and Gingerbread House Workshop in December and the "Holy Peeps" diorama contest during Lent.